Recreational Resources
Lake Murray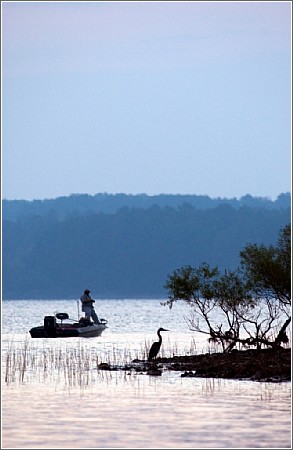 Located on the southern border of Newberry County, Lake Murray is a major recreational destination in central South Carolina. Boating, water skiing, fishing and swimming are abundant on this man-made lake which is 41 miles long and 14 miles wide at its widest point. Lake Murray covers an area of 78 square miles with 649 miles of shoreline. Visit the Capital City Lake Murray Country website for more information.
Lake Greenwood
Located along Newberry County's southwestern border, Lake Greenwood is an 11,400 acre man-made lake. With 200 miles of shoreline, Lake Greenwood offers boating, skiing, fishing, picnicking and camping.
Dreher Island State Park
Located in Newberry County on Lake Murray, Dreher Island State Park consists of three islands linked to shore by a causeway and two bridges. Dreher Island offers hiking, fishing, picnicking, camping and lakeside villas. Visit SC Parks Official Site for more information about Dreher Island State Park.
Sumter National Forest
The Sumter National Forest covers 56,595 acres in Newberry County. Hunting, fishing, primitive camping, nature trails, bird-watching, equestrian trails, picnicking and boating are among the many activities enjoyed in this natural resource.
Molly's Rock Picnic Area
Molly's Rock is a large granite boulder located on an old homestead in the Sumter National Forest. The picnic area is surrounded by large hardwoods to provide a tranquil spot for a relaxing picnic. Molly's Rock Picnic Area is located in Whitmire, SC.
Golf
Newberry County offers two 18-hole golf courses and one 9-hole course.